Simple & Funky
O-SF
Nouveau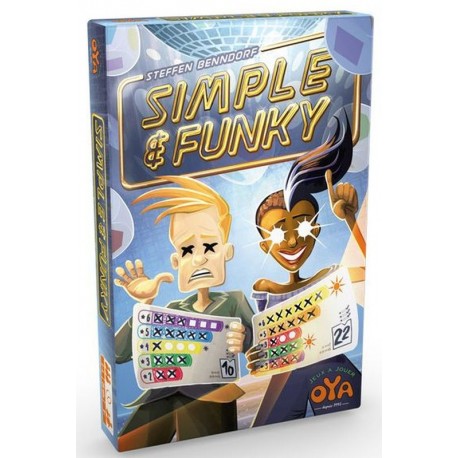 Agrandir l'image
Simple & Funky
O-SF
Jeu de "Roll & Write" simple et amusant.
De 8 à 120 ans
2 - 4 joueurs
Partie de 20 mn
Présentation du jeu Simple & Funky
Jeu de "Roll & Write" simple et amusant. Chaque joueur reçoit 2 cartes avec des lignes de couleur plus ou moins longues à cocher. Chaque joueur à son tour jette tous les dés. On peut relancer 2 fois tout ou partie des dés pour tenter d'atteindre son objectif. Puis tous les joueurs cochent sur la carte de leur choix le résultat des dés. Tous les dés d'une même couleur doivent être cochés sur la carte sélectionnée. Certaines lignes sont étoilées et permettent d'obtenir des bonus. La partie s'arrête dès qu'un joueur a terminé sa quatrième planche. On peut jouer stratégique lors des lancers de dés en tenant compte de ses cartes et de celles de ses adversaires! Un jeu idéal pour s'initier aux jeux de "Roll & "Wright" (lancez les dés & écrivez)!
Contenu: 30 cartes effaçables (6 x 9 cm), 5 dés (les couleurs sont associés à des formes), 4 feutres effaçables, règle.
| | |
| --- | --- |
| Nombre de joueurs | 2 - 4 |
| Tranche d'âge | De 8 à 120 ans |
| Durée de la partie | 20 mn |
| Auteur | Steffen Benndorf |
A propos de l'éditeur Oya
Oya est un éditeur et distributeur français de jeux de société depuis 1995. Il est entre autres éditeur de La Course des Tortues, de Cartagena, et des classiques The Game et The Mind.
A découvrir dans la même catégorie ...